Monday, August 12th, 2013
There is something to this story that most people will not notice.
Palestinian Foreign Ministry: Israeli ministers are the terrorists, not the prisoners
By Ha'aretz Barak Ravid – Aug. 11, 2013

In a letter distributed by Palestinian ambassadors around the world, a copy of which was obtained by Haaretz, prisoners are described as 'freedom fighters'; in late-night meeting, Israel may be seeking to minimize media scrutiny of decision to release prisoners.

…

One of the letters relayed by Palestinian ambassadors around the world was obtained by Haaretz. The letter, which was distributed by the Palestinian Embassy in Santiago, Chile, a day after the cabinet's decision on the prisoner release, claimed that Israel is the one terrorizing the Palestinians, and not vice-versa. "A terrorist is someone who forcefully occupies the other's land, expels him and comes to live in his place," the letter read, "…not the Palestinian political prisoner, the freedom fighter."

(Click Here to read more)
Notice, where they got the letter from …. CHILE?!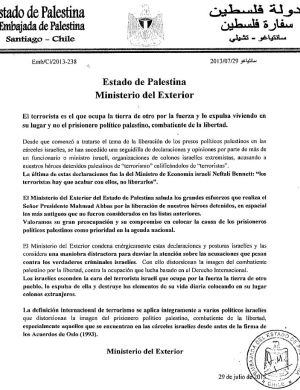 Chile's Palestinians are very radicalized!
From November 2012, during the Israeli attack on Gaza.
Chile has most of the world's Palestinian Christians; and has the most Palestinians outside the Mideast.
This is no accident that this is so prominent in Chile.
Yes, the letter was sent all over the world, but it figured prominently in Chile.
Israel is going to have to keep a sharp eye on Chile's internal politics which are greatly influenced by its Palestinians.