Tuesday, August 9th, 2016
Posted on YouTube: Aug 9, 2016
The video maker lives in Caracas, Venezuela.
Tuesday, August 9th, 2016
Posted on YouTube: Aug 8, 2016
From Venezuela. La Radio del Sur (Radio of the South) with a propaganda broadcast about the launching of the Palestina Liberation (Palestine Liberation) newspaper.
La Radio del Sur is affiliated with the broadcasting wing of Venezuela's TeleSur; a propaganda organ started by Hugo Chavez.
The USA should not be ignoring this.
Wednesday, July 27th, 2016
Latin America is being flooded with pro-Palestinian propaganda.


Palestinian News Breaking [thru] the Blockade and the Occupation
A recent Spanish/Arabic Daily Palestina Liberation was launched on July 20th.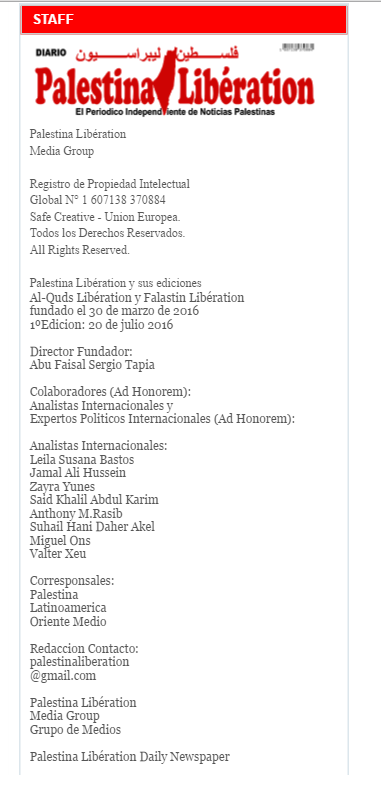 Their twitter account lists their origin in Palestine;
but the paper record to the left lists a European connection; their phone number seems to be registered in Malaysia.
This is clearly an international outfit, because in Spanish, liberation is spelled liberación, with a c, without the t.

Posted on YouTube: July 24, 2016
Launching of Palestinian Liberation
Apparently, Venezuela's TeleSur noticed the launch of the periodical on their network show: Open Agenda.
Older Posts »